Planners and Reformers
Reforming Cities
Chicago's rapid growth led to a variety of urban ills. By the end of the 19th century, the city suffered from congestion, poor housing, pollution, and inadequate streets, sewers, and garbage collection. Advocates of the City Beautiful Movement, exemplified by the Plan of Chicago, took an aesthetic approach to solving these ills: they believed a more attractive and efficient physical environment would improve the social environment. Another approach, led by reformers such as Jane Addams, addressed social needs more directly.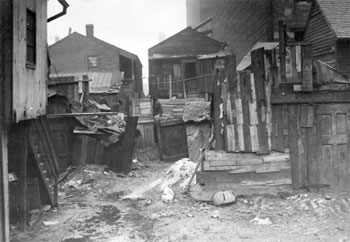 Mapping was essential to urban planning. On the impoverished and crowded Near West Side, home to the most recent immigrants, Jane Addams and Ellen Gates Starr opened Hull-House. Chicago's first settlement house provided social services such as childcare and job placement. This brilliantly colored map (below), with income data collected by Hull-House residents, dramatized the neighborhood's poverty. A series of powerful documentary photographs taken by Lewis Hine (right) around this time strengthened the case for reform.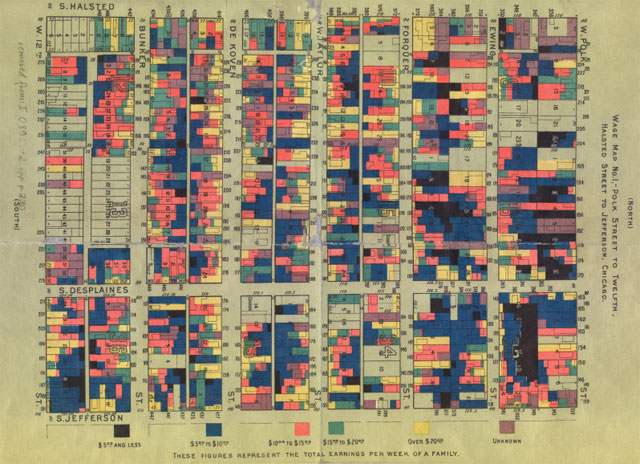 As chief planner of the 1893 World's Columbian Exposition in Chicago (left), Burnham established himself as a leader in the City Beautiful Movement. The fair boasted harmonious neo-classical architecture, elegant landscaping, and state-of-the-art electrical, sewer, and transportation systems. It was also an inspiration for Burnham's later city plans, including his 1903 scheme for downtown Cleveland (below, left) and his 1905 plan for the Philippine capital, Manila (below, right).
Chicago business leaders supported the City Beautiful Movement, seeing it as a way to promote continued prosperity. In 1907 the Merchants and Commercial Clubs joined forces to sponsor what would become the Plan of Chicago. Burnham and Bennett assembled a team to carry out the work and regularly consulted with club members. At a 1908 luncheon, members examined drawings and discussed ideas with the architects. On the far side of the table, Burnham is seated second from left, while Bennett is seated sixth from left.