From City Beautiful to Green Metropolis
Rethinking Transportation
Being a busy crossroads sparked Chicago's early and rapid growth. The Plan of Chicago stressed that continued growth depended on improving infrastructure to move people and goods efficiently. Updating ports (and now airports), railroads, and roads is no less important today. But now, transportation planners ask: how can we travel and ship goods with a smaller carbon footprint? Highways and automobiles will continue to serve certain transportation needs for the foreseeable future, but planners can encourage sustainability by developing alternatives. These include initiatives that will reduce emissions by creating more walkable communities, expanding the use of bicycles and mass transit, as well as making cars, trucks, buses, and railroads more energy efficient.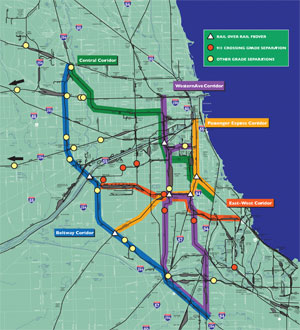 In Burnham's day, Americans relied on trains to travel from city to city. High-speed rail technology promises to make train travel once again attractive, as well as eco-friendly. Chicago may lead the development of the new generation of rail as the center of a regional network reaching out to major cities in the Midwest.
Nearly one third of U.S. rail freight goes through Chicago, but the century-old infrastructure chronically delays the trains. The CREATE program (Chicago Region Environmental and Transportation Efficiency), a partnership of major railroads and government agencies, hopes to break the bottleneck by separating passenger and freight traffic and adding rail capacity. This will relieve congestion and help preserve Chicago's national prominence as a handler of freight. The disentangled rail network will operate more efficiently, reducing the emission of greenhouse gases by saving fuel.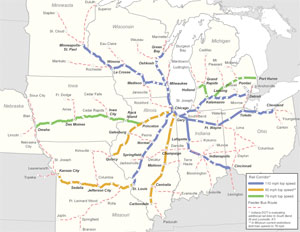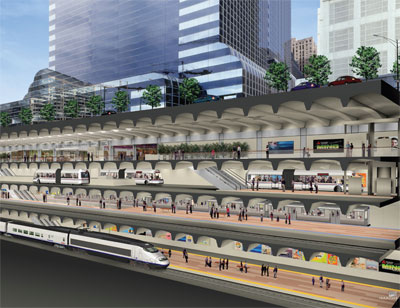 Chicago is a leader in bicycle friendly projects: 140 miles of marked bikeways on city streets, 41 miles of off-street bike trails, 240 miles of signed bike routes, 11,000 public bike racks, and innovative facilities such as the Millennium Park bike station have contributed to a surge in two-wheeled commuters.
A proposed West Loop Transportation Center adjacent to Union Station would make it easier for rapid transit, rail, and bus passengers to switch from one mode to the other. The center would include a station for innovative "bus rapid transit" routes and a new subway station to serve the West Loop. Through tracks (on the lowest level in the drawing) will eliminate the need for intercity rail travelers and commuters to change trains. They could also accommodate high-speed trains bound for O'Hare Airport and Midwestern destinations beyond.
City streets can also be redesigned to be more ecologically sustainable. A plan for a portion of Blue Island Avenue on Chicago's Southwest side includes features that encourage the use of bikes and public transportation. Landscaping, permeable pavements, and state-of-the-art lighting would reduce the generation of heat, help conserve water, and promote the use of recycled materials.