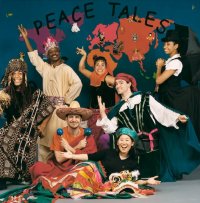 In the spirit of Daniel Burnham's forward-looking Plan of Chicago, Kidworks Touring Theatre Co. presents a "hands-on" exploration of climate changes around the world, told from the perspective of endangered animals and plants.

Journey with Kidworks in our educational and eye-opening performance for children ages 4-12. Come ride a melting glacier with a polar bear, journey to the Amazon rainforest on a monkey, save the coral reef in Australia and help create a better future for our lives here in Chicago. Kidworks brings Global Warming myths and facts to life, and offers positive solutions to saving the air, the trees, the oceans and ourselves.
This program was offered on these dates:
Saturday, November 21, 2009 1:00pm to 2:00pm

Joliet Public Library
Hours:
9 am - 9 pm Monday through Friday, 9 am - 4 pm Saturdays and 1 - 5 pm on Sundays. We are closed on Sundays during the summer
Cost: Free and open to the public.
Website: http://joliet.lib.il.us/
Location:
Joliet Public Library, Main Location
150 N. Ottawa Street
Joliet, IL 60432
815-740-2660
[Get Directions]