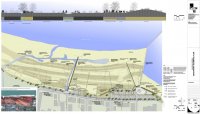 Waukegan's plan for transforming its downtown and lakefront is like a modern-day Burnham Plan. Just as the 1909 Plan of Chicago transformed Chicago's Lake Michigan shoreline, Waukegan's Harborfront freight yards and lakefront tracks will be relocated to reconnect downtown to the lakefront—seen in its plan as that city's "defining natural amenity." The "21st Century Vision for Waukegan's Downtown and Lakefront" will create a large park joining downtown with the lake, where it will restore its native dune and swale ecosystem and the Moorlands running north. The mouth of the Waukegan River and its banks will become a green public space in the heart of the city.

Downtown's ravine system will be restored as an open space resource. Its major gateways will be enhanced, leading to 200 acres of new development and a vibrant walkable core—and from which new neighborhoods will grow to the north and south on the formerly industrial lakefront. Waukegan's bold plan and big dream also calls for the development of beach access facilities, including a boardwalk that opens recreational access to the shoreline while helping to protect and interpret its dune and swale ecosystem. During the Centennial, Waukegan educated its residents about the parallel between the historic Plan of Chicago and this new plan that uses beauty, nature, order and the lakefront to transform a city by combining an exhibit on the Burnham Plan brought to the Waukegan Public Library by the Newberry Library with a special exhibit on Waukegan's lakefront plan.
For a print-friendly fact sheet on the Waukegan Open Space, click here.
City of Waukegan
Contact: Robin Schabes, Robin.Schabes@ci.waukegan.il.us, 847.856.6425