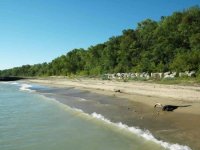 The Openlands Lakeshore Preserve on Lake Michigan at the former Fort Sheridan in Highland Park opened to the public for the first time in a century in September 2009. Because Illinois has only 60 miles of Lake Michigan shoreline, adding a 3/4 mile long ravine and a mile of undeveloped lake bluffs and shoreline—both with spectacular views—is a major milestone for our region's permanent green infrastructure. When completed, the Preserve will provide access via a bluff trail for hiking, biking and wheelchair access, a shoreline walk and a ravine trail.
Because it had been closed to the public for a century, the Lakeshore Preserve remained one of the last intact ravine/bluff ecosystems in the Chicago region. With a $4 million grant from the Grand Victoria Foundation, Openlands has begun an ecological restoration program. In the first phase of the project, Bartlett Ravine was restored. It will be followed by restoration of the bluff and two other ravines. Preserving regionally significant open space and protecting our shoreline are two Green Legacy goals exemplified by the Openlands Lakeshore Preserve, the success of which helps build momentum throughout the region to complete our trail system, to expand neighborhood green spaces, to connect us to our rivers and streams, and to restore and steward our native habitats.
Funding for the Openlands Lakeshore Preserve has been generously provided by the Grand Victoria Foundation, the Hamill Family Foundation and Exelon Foundation.
For a print-friendly fact sheet on the Openlands Lakeshore Preserve, click here.