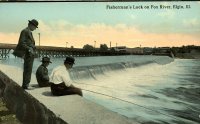 Exhibit : Tuesday, May 19, 2009 to Thursday, July 8, 2010

Many principles of the Chicago Plan were used when Burnham's partner Edward Bennett formulated a plan for Elgin in 1917. Discover this plan and others that followed including the latest Elgin plan for sustainability.
Exhibit opening will be held Tuesday, May 19 at 6:30 p.m., Gail Borden Public Library.
Robert W. Siljestrom, City Planning and Development Commission, and Tom Armstrong, Department of Planning and Neighborhood Services, will speak about the development of transportation corridors, green spaces and separation of business and residential sections. A barbershop quartet from the Fox Valley Men of Harmony will perform. Coffee and cookies will be served. The traveling exhibit is a partnership with the City of Elgin, the Elgin Area Historical Society, the Gail Borden Public Library District, Elgin Community College, the Elgin Community Network and Judson University.
The exhibit will be on view at the following locations throughout 2010:
Gail Borden Public Library (May 9 - August 8, 2009)
Elgin Community College (October 1 - December 1, 2009)
Judson University (January - March 2010)
The Centre of Elgin (Summer 2010)
This program was offered on these dates:
Exhibit : Tuesday, May 19, 2009 to Thursday, July 8, 2010

Gail Borden Public Library District
Hours:
Mon.-Thurs. 9 AM- 9 PM, Fri. 9 AM- 9 PM, Sat. 9 AM-5:30 PM, Sun. 1-5:30 PM
Cost: Free
Contact: Miriam Lytle, mlytle@gailborden.info, 847-608-5027
Website: http://www.gailborden.info/
Location:
Gail Borden Public Library
270 N. Grove Ave.
Elgin, IL 60120
847-429-4680
[Get Directions]