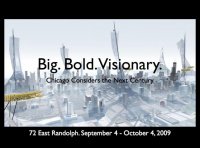 Exhibit :
Daniel Burnham's 1909 Plan of Chicago did more than provide a vision for Chicago in the 20th century. It established a precedent of dreaming big and thinking boldly that every generation of Chicagoans since has firmly embraced. This exhibition taps current Chicago architects, planners and landscape architects for their visions of the city and region in the 21st century and beyond.
Some are comprehensive; proposing radically different forms that might someday make Chicago a place unrecognizable to our contemporary eyes. Some are simply big; tall new towers and innovative urban spaces that could transform the skyline and the neighborhoods in which they are proposed. Others are big ideas seemingly small interventions that if implemented could catalyze the city and region's way of life for the better.

These proposals represent the best thinking of Chicago today.The ideas are rich and diverse, representative of the many influences that have made this city the world capital of Architecture. All are fundamentally Big, Bold, and Visionary in the mold of Daniel Burnham.

View images from the exhibit >>

Programming:
There will be gallery talks on Thursdays at 12:15 - 9/10, 9/17, 9/24.
On September 29 there will be a ticketed Pecha Kucha event.
The exhibit curated by Edward Keegan is a collaboration between the Burnham Plan Centennial Committee and the City of Chicago Department of Cultural Affairs.
This program was offered on these dates:
Exhibit : Friday, September 4, 2009 to Sunday, October 11, 2009

Burnham Plan Centennial Committee
Cost: Free. Gallery hours: Gallery hours are Mondays–Thursdays 8 am–7 pm (6 pm Fridays), Saturdays 9 am–6 pm (10 am Sundays), Holidays 10 am–4 pm.
Location:
Chicago Tourism Center Gallery
72 E. Randolph Street
Chicago, IL
[Get Directions]