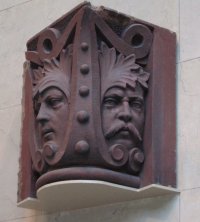 A preview concert reading of a musical.
"The White City: Daniel Burnham's Dream" sings the story of the 1893 World's Fair in Chicago, the Columbian Exposition, planned and constructed under the leadership of Daniel Burnham. It is a story of contrast and comedy, potential and challenge. What he learned in creating the White City inspired Burnham's vision for the City of Chicago. The musical traces his challenges and personal journey from architect for the rich to humanist, concerned with making the city of Chicago a better place for all its people.
Book by June Finfer, Music by Elizabeth Doyle, Lyrics by June Finfer and Elilzabeth Doyle. The production includes a cast of nine. Original Music, including songs such as "We are a Team" (ragtime), and "Never Marry an Architect" (Gilbert and Sullivanesque).
June Finfer is president of Lost and Found Productions, a not for profit media and event producing organization that has raised pubic awareness about art and architecture with video documentaries and plays about Mies van der Rohe, Philip Johnson, Daniel Burnham, and others. Finfer is a Chicagoan who has spent several summers enjoying the lakefront in Beverly Shores, IN. Her play, The Glass House, has been optioned for production in New York. Elizabeth Doyle is a Chicago singer/songwriter who has written music for several musicals, including Sleepy Hollow.
In the 1909 Plan of Chicago, Burnham wrote: "This same spirit which carried out the Exposition in such a manner as to make it a lasting credit to the city is still the soul of Chicago, vital and dominant.This spirit 'the spirit of Chicago' is our greatest asset. It is not merely civic pride: it is rather the constant, steady determination to bring about the very best conditions of city life for all the people."
This program is in conjunction with "Interurban Trains & Tourism", which is part of the Burnham Plan Centennial. The Lubeznik Center joins hundreds of other organizations as a program partner in this wide-spread event during 2009. The Burnham Plan Centennial celebrates the Bold Plans and Big Dreams that shaped metropolitan Chicago for the past century and challenges our region's communities, leaders and institutions to build on the success of the Burnham Plan and act boldly together to shape our future.
This program was offered on these dates:
Sunday, July 19, 2009 5:00pm

Lubeznik Center for the Arts
Cost: Tickets: $10 for LCA members, $15 for non-members & reservations after June 1 Ticket Reservations before June 1, Limited seating - reservations recommended. Call 219-874-4900
Contact: Contact: Amy Davis Navardauskas, adavis@lubeznikcenter.org, 219-874-4900 ext. 202
Website: http://lubeznikcenter.org/Special_Events/events.html
Location:
The Lubeznik Center for the Arts
101 W. 2nd Street
Michigan City, IN 46360
[Get Directions]