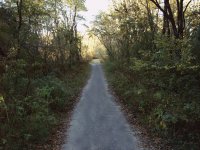 The 50-mile Marquette Greenway Trail will eventually link communities, major parks and a wide variety of cultural, natural and economic assets. The Northwestern Indiana Regional Planning Commission and the Indiana Department of Natural Resources' Coastal Program, in conjunction with the Northwest Indiana Regional Planning Association, announced on October 29 a plan to close a nine-mile gap separating two units of the Indiana Dunes National Lakeshore. This will contribute to the Green Legacy goals of preserving regionally significant open space and completing our trail system.
The Marquette Trail is a key component of the visionary and ambitious Marquette Plan. This project will have major regional impact, implementing a broader "lakeshore reinvestment strategy" that includes proposals for green space and trails for recreation, environmental quality improvements and community development. By building on the rich, natural legacy of northwestern Indiana, the Marquette Plan offers a vision in which nature and industry—and the "old" and "new" economies—work together to create a sustainable future and a major enhancement of the metropolitan region's green infrastructure.
For a print-friendly fact sheet on the Marquette Greenway Trail, click here.
Northwestern Indiana Regional Planning Commission
Contact: Mitch Barloga, Non-motorized Transportation Planner, mbarloga@nirpc.org, 219.763.6060
Website: http://nirpc.org