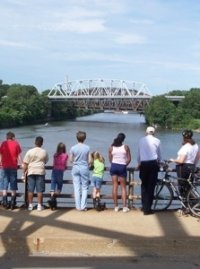 Federal, state and local intergovernmental collaboration and community support crystallized for the 26-mile Calumet-Sag Trail during the Burnham Plan Centennial. The trail runs through 14 communities in Chicago's south and southwest suburbs following the Cal-Sag Channel, a major shipping route connecting the Chicago Sanitary and Ship Canal with Calumet Harbor and Lake Michigan.
The completed Calumet-Sag Trail will link a number of local trails, as well major regional and national trails. From the Burnham Greenway and the Chicago Lakefront Trail on the east to the Centennial and I&M Canal Trails on the west, this trail will ultimately serve as the connector between two major federal projects—the I&M Canal National Heritage Corridor and the Indiana Dunes National Lakeshore.
Providing new recreation potential unequaled in the southland, this trail will also create an east-west alternative transportation route for more than 200,000 residents to train stations along six suburban commuter rail lines. Trail engineering and master planning are moving ahead at a fast pace. Public and private fund-raising are underway for construction and implementation of the master plan. The trail is being sponsored by many agencies and organizations that form the Calumet-Sag Trail Coalition, with additional public support from the Friends of the Calumet-Sag Trail and the National Park Service.
For a print-friendly fact sheet on the Calumet-Sag Trail, click here.
Calumet-Sag Trail Coalition
Contact: Diane Banta, diane_banta@nps.gov, 312.863.6287