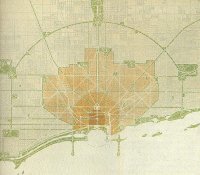 A short walking tour, "Burnham For Beginners" is an introduction to Burnham and Bennett's 1909 Plan of Chicago. The tour is designed for the general public as a basic introduction to the ideas of the 1909 Plan and the context of its development. Information will be provided in an accessible and informal manner.
The tour explains Burnham's basic 1909 Plan, the role of Congress Parkway, the Santa Fe building from where Burnham surveyed the city, and the classical influences of Grant Park and, subsequently, Buckingham Fountain. It puts the 1909 Plan in the context of late 19th- and early 20th-Century trends in U.S. Urban Planning and Architecture. Comment will be made on specific elements of the Plan, the people and institutions involved in its creation and implementation, the legacy of the Plan and its important elements, such as lakefront parks, suburban forest preserves and rail transportation systems.
This free evening walking tour will begin at the Columbia College Museum of Contemporary Photography (600 S. Michigan) and involve a short walk to Lake Michigan and back.
This program was offered on these dates:
Monday, June 15, 2009 6:30pm to 7:30pm

Geographic Society of Chicago
Cost: Free
Contact: Euan Hague: ehague@depaul.edu
Website: http://www.geographicsociety.org/
Location:
Columbia College Museum of Contemporary Photography
600 S Michigan Avenue
Chicago, IL 60605
[Get Directions]