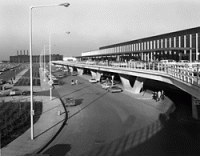 Exhibit :
In the second half of the 20th century Chicago's O'Hare International Airport was the biggest and busiest facility of its kind in the world. Designed by a team of architects led by C.F. Murphy Associates, O'Hare remains one of the largest architectural commissions in Chicago's history.

Soon after opening, O'Hare emerged as the industry standard. Design strategies such as the central parking garage, movable jetway bridge, and two-tiered entryway separating arrivals and departures made O'Hare an international model for jet-age airport design
The exhibit is a case study of the large-scale transportation infrastructure planning that was essential for maintaining Chicago's status as a global city. The exhibition will explore O'Hare International Airport (ORD) in terms of its relationship to Chicago, its design (it served as a model for airports internationally), and as an industrial landscape.
The exhibit presents a selection of architectural photographs that portray O'Hare. Hedrich-Blessing's iconic black and white images capture the Miesian-influenced modernism of Chicago's largest public works project. Robert Burley's color photographs show O'Hare's operational airfield as a complex managed landscape. The work of both photographers illustrates the design legacy at O'Hare International Airport.
An Opening Reception will be held Thursday, January 15, 2009 from 5:30-7:30pm in The John Buck Company Lecture Hall Gallery with guest curator Charles Waldheim presenting a brief overview of the exhibition. Waldheim is Principal and Founder of Urban Agency, Toronto. The reception is free and open to the public. RSVP to rsvp@architecture.org or 312.922.3432 x224.
Waldeim will also speak on Friday, January 16, 12:15–1:00 pm as part of the CAF Lunchtime Lecture Series at which he will discuss the selection of architectural photographs by Hedrich Blessing and Robert Burley that illustrate the design legacy at O'Hare. The lecture is free and open to the public. No RSVP is required but please arrive early; seating is limited.
Visit the Chicago Architecture Foundation's website for information about additional public programs.


This program was offered on these dates:
Exhibit : Thursday, January 15, 2009 to Friday, May 1, 2009

Chicago Architecture Foundation
Cost: Free
Contact: RSVP for the January 15, 2009 Opening Reception via e-mail: rsvp@architecture.org or by phone: 312.922.3432 x224
Website: http://www.architecture.org
Location:
Chicago Architecture Foundaion - John Buck Company Gallery
224 S. Michigan Avenue
Chicago, IL
[Get Directions]