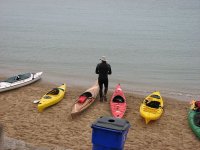 The Burnham to Marquette Water Trail Expedition is a bi-state sea kayaking event that will allow competent participants to be a part of a historic weekend long journey from Chicago to Michigan City. The route will follow the new Southern Lake Michigan Water Trail that will be dedicated by this inaugural event.
Beginning in Chicago, participants will paddle along the Illinois and Indiana coastline in 5-8 mile segments allowing participants to be able join in and finish at various points along the route. Early on the morning of Saturday, June 13th, the Expedition will begin from the Burnham Harbor West boat ramp.
Programs at the Illinois landing sites will focus on the Burnham Plan, what came about because of it, and keeping in the spirit of the original vision, what the future holds for lakefront projects.
To view a slide show of the expedition click here.
Program partners include the Shirley Heinze Land Trust, the Northwest Indiana Regional Planning Commission (NIRPC), Openlands, J.F. New Environmental Services, the Trail Creek Steering Committee, City of Michigan City, Weaver Boos Engineering, the Illinois Paddling Council, the Chicago Area Sea Kayakers Association (CASKA), Fluid Fun Canoe and Kayak, City of Portage, City of Whiting and City of Gary, East Chicago, Indiana DNR Coastal Program, National Park Service, Calumet Stewardship Initiative, Alliance for the Great Lakes
This program was offered on these dates:
Saturday, June 13, 2009 8:00am to Sunday, June 14, 2009 5:00pm

Northwest Indiana Paddling Association
Contact: Dan Plath, 219.879.3084, dkplath@gmail.com
Website: http://www.NWIPA.org