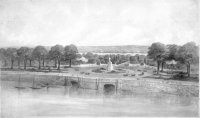 In his only Burnham Plan Centennial presentation, popular guest speaker Tim Samuelson, the City of Chicago's Cultural Historian, will discuss Burnham's early contributions. Before his famous 1909 Plan of Chicago, Burnham captured national attention with an ambitious plan to beautify Chicago's downtown and South Side lakefront. Largely forgotten, this innovative 1896 project marked an early stage in Burnham's career as a city planner, and the beginnings of the celebrated 1909 citywide plan, which is the focus of nationwide celebrations this year. Samuelson will link the two plans.
This special event is held in conjunction with the ISM Lockport Gallery's current exhibition The Grammar of Landscape: Eleven Photographic Visions of Illinois. The exhibition maps the terrain of our state through the eyes of eleven artists with unique visions—David Avison, Barbara Crane, Joan Dickenson, Michelle Keim, Gary Kolb, Jin Lee, Michael McGuire, Rhondal McKinney, Art Sinsabaugh, Bill Sosin, and Bob Thall.
This program was offered on these dates:
Sunday, March 15, 2009 2:00pm to 3:30pm

Illinois Department of Natural Resources
Cost: Free and open to the public, no registration required. Seating is limited.
Website: http://www.museum.state.il.us/ismsites/lockport
Location:
Illinois State Museum Lockport Gallery
201 W. 10th Street
Lockport, IL 60441
815.838.7400
[Get Directions]