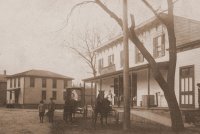 Exhibit :
An exhibit of photographs and other artifacts that illustrate Fullersburg (now incorporated into Hinsdale and Oak Brook) and Chicago in the years leading to 1909 and that examine the factors that caused Fullersburg to decline while Chicago boomed. Hands-on activities include simple city planning using a magnetic board and constructing simple buildings using basic materials.
This program was offered on these dates:
Exhibit : Friday, May 1, 2009 to Sunday, November 15, 2009

Graue Mill and Museum
Hours:
Open Tuesday through Sunday, 10AM to 4:30PM mid April thru mid November.
Contact: Sandy Brubaker,630.920.9720 x22,sbrubaker@grauemill.org
Location:
Graue Mill and Museum
3800 York Road
Oak Brook, IL 60523
[Get Directions]