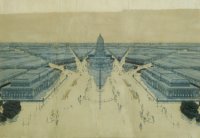 Exhibit :
Don't miss the last of five insightful rotations of rarely displayed prized illustrations created for the Plan of Chicago. This final exhibit showcase images from Chapter VII of the Plan: Heart of the City which feature the proposed Civic Center at Halsted and Congress Streets. This year-long exhibit has been curated by the Department of Architecture and Design.
A noble, logical diagram once recorded will never die, but long after we are gone will be a living thing, asserting itself with ever-growing insistency."
Architect Daniel Burnham's words are certainly prophetic of his masterful and monumental 1909 Plan of Chicago. This urban-planning document, unprecedented in size and scope, created city treasures still cherished today—the string of stunning lakefront parks, suburban forest preserves, the wide boulevard of North Michigan Avenue, the bi-level Wacker Drive, and a broadened Congress Parkway. The plan's legacies, however, are more than simply physical; Burnham promoted innovative concepts that remain goals for Chicago's vibrant future, including weaving the city into the regional fabric and creating abundant public spaces to foster community.
Yet, Burnham was as savvy as he was visionary. Knowing his plans would need convincing images to garner support, he engaged noted artists to produce 142 new illustrations. Maps, diagrams, perspective drawings, and even striking watercolors gloriously realize Burnham's ideas.