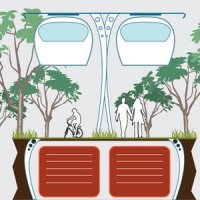 The Systems Course at IIT's Institute of Design will charge five teams of graduate design students to project the future for Chicago and, by extension, major cities around the world. The teams will explore the new and powerful forces, both destructive and constructive, that confront cities and society.

Students participating in the course during the Fall 2008 will present their work on December 5, 2008 at a program open to IIT faculty, students and the public. Students presentations will utilize the Structured Planning process to explore what can be under four integrated topics.

This project explores urban possibilities for the next century. Rather than a conventional, however, it examines a variety of physical, procedural and organizational concepts now emerging or that soon could emerge from evolving technologies and changing social forces. Overall, the project is composed of four separate but integrated studies focusing on urban infrastructure, transport, environmental features (river and lake front), and the role of nature in the city.
Focal Point Studies
Hyper-connected Infrastructure
Advanced concepts for supplying energy, water, waste removal, communications and information services where needed throughout the city.
Infrastructure final presentation video [mp4, 174MB]

Ruth Nechas Project Leader, Cecilia Ambros, Daniel Erwin, Amanda Wirth

Responsive Transport
Transport options for moving people and commodities conveniently with minimal intrusion of the public space.
Transport final presentation video [mp4, 216MB]

Jennifer Lee Project Leader, Andy Conrad, Prashant Desai, William Huang

Featured Environment
Concepts for enhancing the contributions of special environmental features to the urban experience.
Environment final presentation video [mp4, 195MB]

Amanda McKown Project Leader, Mehmet Cirakoglu, Judd Morgenstern, Matthew Swift, Dongzhe Sun

Infused Nature
Strategies for bringing nature more intimately into the public and private urban space.
Nature final presentation video [mp4, 214MB]

Ruth Schmidt Project Leader, Ann Hintzman, Marisa Knopman, Leonard Thomas McCue, Nikki Pfarr