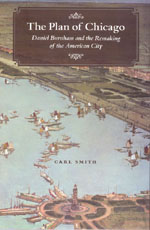 The University of Chicago Press is the proud publisher of Carl Smith's acclaimed Plan of Chicago: Daniel Burnham and the Remaking of the American City, the choice for this Fall's One Book, One Chicago program sponsored by the Chicago Public Library.
The University of Chicago Press has also reissued in paperback Thomas S. Hines's heralded biography of Burnham, Burnham of Chicago: Architect and Planner. Called the "the definitive biography." by the Chicago Tribune, this commemorative edition of Burnham of Chicago includes a new introduction by noted American history scholar, Neil Harris.
Coming in 2010 Plans of Chicago, the inaugural publication of the Chicago-based Architects Research Foundation. This remarkable book uses the 1909 Plan as a precedent for reconnecting Chicago's center to outlying suburbs. As in Burnham's Plan, improved transportation and park systems will make Chicago both "the city that works" and a "City Beautiful." With 130 exquisite illustrations, including reproductions of Jules Guerin's famous watercolors—collected here in full color for the first time, Plans of Chicago charts a path for the city's future.
University of Chicago Press authors are available to speak on Burnham related topics throughout the community. For more information, please contact ldawson@press.uchicago.edu