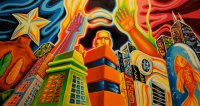 Exhibit :
El Proximo Centenario captures the spirit of imagination and innovation that the Burnham Plan represents, and reinvigorates the Plan's tradition of having big dreams for the future through an arts initiative that engages young emerging Mexican Latino artists/architects and students involved in the WRTE-FM Radio Arte program. Participants will mainly comprise students and young artists of color from the city's diverse, low-income communities of Pilsen, Little Village and Back of the Yards.
The visual arts component of El Proximo Centenario will invite Mexican/Latino artists and architects to envision a century when the Chicago Latino population will transition from a "minority" group to a majority of the area's residents with increased influence on the city's fabric of life. Following a request for proposal process, the NMMA will commission between 10 and 20 young artists/architects to create visual artwork depicting their vision for the future of one of six sites in the city.
Creation of the accompanying audio installation component will be the culmination of a new eight-week training course offered for students involved in the 90.5 WRTE-FM Radio Arte's training program. The students will create audio "soundscapes" which will represent their own take on Chicago's past, present and future pulse, and reflect the realities of their own experiences. The opening of the "Audio domes" will take place September 10th from 6-8pm.
El Próximo Centenario is funded with generous contributions from the Joyce Foundation and the Burnham Plan Centennial Committee

This program was offered on these dates:
Exhibit : Friday, June 5, 2009 to Sunday, October 4, 2009

National Museum of Mexican Art
Cost: Free
Website: http://www.nationalmuseumofmexicanart.org/
Location:
National Museum of Mexican Art - Kraft Gallery
1852 W. 19th Street
Chicago, IL 60608
312.738.1503
[Get Directions]