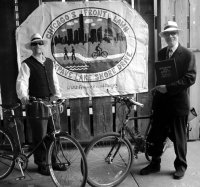 Chicagoans can thank Burnham & Bennett's Plan of Chicago for bequeathing the city a largely uncluttered lakefront. But unfortunately, today an 8-lane superhighway separates Chicago from a truly free and clear shoreline. A movement is growing to restore Burnham's vision by eliminating the pollution, dangers and unsightliness of Lake Shore Drive.
"The Vision Ride is a fun way to educate Chicagoans about our vibrant lakefront history," said Jim Redd, who plays Daniel Burnham on the ride. "Today, we have a beautiful, open lakefront because because Burnham and other courageous people throughout Chicago 's history have been willing to fight for what's right. Now, the future's up to us."
Press Release:
100 Year s Later
Burnham's Back and He's Not Happy
"First in importance is the shore of Lake Michigan. It should be treated as park space to the greatest possible extent. The lakefront by right belongs to the people… not a foot of its shores should be appropriated to the exclusion of the people."
– The Plan of Chicago, Daniel Burnham, 1909
What: Burnham Centennial Lakefront Vision Ride, a Free 2-Hour Bike Ride Exploring Burnham's Lakefront Legacy and the Hopeful Future of
Chicago's Shoreline.
When: Sunday, August 30, 2009, 2pm, meet at Daley Plaza,
Washington and Dearborn
Contact: 773-252-4657
At the 100th anniversary The Plan of Chicago, Burnham's vision for a tranquil shoreline remains vulgarly violated by an 8-lane superhighway.
Though Burnham may have been the most eloquent advocate for Chicago's lakefront, he wasn't the first. The 1836 the Canal Commission decreed the lakefront to be "Public Ground — Common to Remain Forever Open, Clear, and Free of Any Buildings, or Other Obstruction Whatever."
The ride is sponsored by the Campaign for a Free and Clear Lakefront, a grass roots coalition working to remove Lake Shore Drive from Grant Park and eventually from the entire length of the Chicago shoreline. More info at www.ForeverFreeandClear.org or call 773-252-4657.
This program was offered on these dates:
Sunday, August 30, 2009 2:00pm

Forever Free and Clear
Cost: Free
Contact: Michael Burton, 773-252-4657
Website: http://foreverfreeandclear.org
Location:
Daley Center Plaza
50 West Washington Street
Meet by the Picasso
Chicago, IL 60602
[Get Directions]