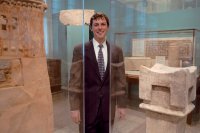 The world's first cities were built in the ancient Middle East more than 5,000 years ago, and many faced issues that confront our cities of today. In this richly illustrated lecture, Geoff Emberling, Museum Director of the Oriental Institute, explores cities from the plains of Mesopotamia to the fertile Nile Valley in ancient Egypt.

Emberling discusses such ancient cities as: Amarna, the Egyptian capital that was home to King Akhenaten and his queen, Nefertiti; Khorsabad; a royal citadel of ancient Assyria in northern Iraq; and Babylon, where the towering ziggurat may have inspired the biblical narrative of the Tower of Babel. Learn about the rise of the city as a form of settlement, how urbanization developed around cultural views of space in the absence of formal urban planning, and see what we know about some planned ancient cities.

After the lecture, Emberling will take you into in the museum's galleries to view artifacts from ancient Babylon and the colossal sculptures that once stood outside the throne room of the royal palace in ancient Khorsabad. Then browse for bargains in the Suq on the last day of the annual Holiday Sale!

This lecture is presented in conjunction with the Burnham Plan Centennial Celebration commemorating Daniel Burnham's 1909 Plan of Chicago.
This program was offered on these dates:
Wednesday, December 9, 2009 7:00pm

Oriental Institute
Hours:
Tues: 10am-6pm; Wed: 10am-8:30pm; Thurs-Sat: 10am-6pm; Sun: 12-6pm; closed Mondays
Cost: Free. Pre-registration is not required.
Website: https://oi.uchicago.edu/
Location:
Oriental Institute
1155 East 58th Street
Chicago, IL 60637
773-702-9507
[Get Directions]