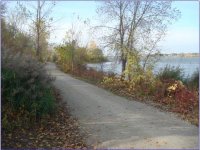 One of the Burnham Plan Centennial principles for green infrastructure is to connect us to our rivers and streams. Another Green Legacy goal is to complete our region's trail system. Aurora's downtown development plan will accomplish both through the creation of RiverEdge Park that will close a downtown gap and complete an uninterrupted 60-mile trail. Great progress has been made during the Centennial toward the closing of the last gap in this green-infrastructure trail that runs the length of Kane County, and through McHenry County to Wisconsin. This project is sponsored by the City of Aurora, Fox Valley Park District and Kane County.
The Fox River Trail is part of a regional greenway and trail plan originally prepared by Openlands and the Northeastern Illinois Planning Commission in the 1980s that is only now being completed—exemplifying the Green Legacy idea of long-term persistence for completing regionally significant projects.
For a print-friendly fact sheet on the Fox River Trail, click here.