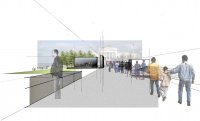 Exhibit :
This exhibit features David Woodhouse Architects' winning design and three-dimensional scale model for a proposed Burnham Memorial at a site on the Museum Campus just north of the Field Museum. DWA's design was one of 19 entries submitted by architectural firms throughout the country in the two-phase competition. Other firms represented include Hoerr Shaudt, Chicago (Finalist & Second-Place Winner), Sasaki Associates Inc., Watertown, MA (Finalist & Third-Place Winner), John Ronan Architects, Chicago (Honorable Mention), Hammond Beeby Rupert Ainge Inc., Chicago (Honorable Mention), and Peter Walker & Partnes, Berkely, CA (Honorable Mention).

To view DWA's winning entries and the other entries listed above, click here.
This program was offered on these dates:
Exhibit : Friday, August 21, 2009 to Sunday, November 1, 2009

AIA Chicago
Hours:
9:00 a.m. to 5:00 p.m.
Cost: FREE with Museum admission
Website: http://www.aiachicago.org/burnham
Location:
The Field Museum, Brooker Gallery
1400 S. Lake Shore Dr.
Chicago, IL 60605
[Get Directions]