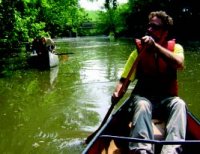 The Centennial year commemorates the completion of nearly 90 percent of the 500-mile Northeastern Illinois Regional Water Trails Plan. The Plan was developed by Openlands, Northeastern Illinois Planning Commission (NIPC), Illinois Paddling Council and the Illinois Department of Natural Resources. It was adopted by NIPC in 1999.

The seven-county water trail system -- the first of its kind for a large metropolitan area -- is designated specifically for non-motorized boating on tne northeastern Illinois waterways. Water trails provide educational, recreational and research opportunities, habitat for wildlife, water quality enhancements, and even financial benefits by improving community image and quality of life. Connecting us to our rivers and streams is a core Green Legacy principle.

Subsequent to the northeastern Illinois plan, the Northwestern Indiana Regional Planning Commission (NIRPC), with Openlands, developed the Greenways & Blueways Plan, which was adopted by NIRPC in 2007. The plan included an extension of the Southern Lake Michigan Water Trail along the Indiana Lake Michigan shoreline.

The creation of the Southern Lake Michigan Water Trail was celebrated by the Burnham to Marquette Water Trail Expedition, which progressed from Chicago to Michigan City on June 13 and 14, 2009. The event, coordinated by the Northwest Indiana Paddling Association working with many collaborating organizations helped galvanize a four-state consortium of planning agencies, paddling clubs, governmental entities and other groups to come together and try to create a continuous water trail around the entire lake.

For a print-friendly fact sheet on the Northeastern Illinois Regional Water Trails Plan, click here.


Openlands
Contact: Laura Barghusen, lbarghusen@openlands.org, 312-863-6253