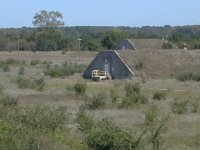 The Burnham Centennial provides the context and a timely opportunity to seek out new and innovative ideas for making the tremendous resources of the Midewin National Tallgrass Prairie available to the diverse Chicago community in ways that enhance both our natural environment and the region's quality of life. Chicago professionals have the opportunity to design a Burnham Plan Centennial at Midewin in southwestern Will County. The project consists of two separate but integrated open-air, visitor/education areas.
The project facilities will be featured attractions at the largest natural, open space in the Chicago region and the largest prairie restoration east of the Mississippi River. Midewin lies within the broad region defined in the 1909 Plan of Chicago but represents a new opportunity to do for the Chicago region what the Plan did for the Chicago lakefront.
Schedule
A Charrette sponsored by the Midewin Burnham Legacy Task Force on March 21, 2009 has produced the schematic concepts for this milestone project for Midewin and for the region. Members of the Chicago Metro Section of the Illinois Chapter of APA, the Illinois Chapter of ASLA, and the Eastern Illinois Chapter of AIA worked together to produce a foundation for two key elements of Midewin's permanent visitor infrastructure.

Friday, June 19: Qualifications submissions completed from interested firms, individuals or teams.

Friday, July 3: Three finalists will be selected to prepare creative, sustainable and cost-effective designs for the new facilities.

Friday July 31: Finalists' designs to be completed.

The three designs will be displayed at the launch of a public involvement and capital fund-raising campaign during the fall of this Burnham Centennial year. In addition, the proposals will be considered for inclusion in the "Big, Bold, Visionary" exhibit, being sponsored by the Centennial of the Burnham and Bennett "Plan of Chicago" and curated by Ed Keegan at the Chicago Cultural Center, opening September 4, 2009, Daniel Burnham's 163rd birthday.

Design Program
The project will be a model of sustainable structure and site design for outdoor recreation and interpretive facilities at Midewin. It will demonstrate cutting-edge design for materials, structure, pollution control, surface water use and management, ease of maintenance, ecological protection and restoration, energy conservation and use of renewable energy production, and management/recycling of all waste materials. The facilities must serve diverse audiences effectively and be accessible to persons with disabilities.

Element 1: Iron Bridge Outdoor Learning Center (11.4 acres): Located at the Iron Bridge Trailhead just east of Historic Route 66 which divides Midewin into eastern and western halves, this facility will serve both the general traveling public and organized visits of school classes. It is Midewin's central trailhead and main point of entry, with recreation trails to be extended both east and west from this point. The structure at this location is also intended to be a destination in and of itself as an example of state-of-the-art green design. Basic elements at this site include an open-air classroom, interpretive exhibits, a picnic area and campfire ring, native landscaping, and parking for both cars and horse trailers.

Element 2: River Road Outdoor Learning Center (4.7 acres): Located two miles east of I-55, this facility provides visitor, volunteer, and classroom access to Midewin's largest seed production garden and to our most mature prairie restoration to date. It is both a driving and trail destination. Basic elements at this site include an open-air classroom, a picnic area, and native landscaping.
Midewin National Tallgrass Prairie
Hours:
Midewin Welcome Center 8:00 a.m. - 4:30 p.m. Mon-Sat
Contact: Rick Short, 815.423.6370, rshort@fs.fed.us