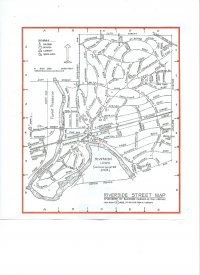 Exhibit :
To celebrate the Centennial of the Burnham Plan, Riverside residents and businesses will have the opportunity to become part of Olmsted's Plan of Riverside, by participating in a BIG MAP Project, which will be on display August 24 through September 14.
We invite children of all ages to mark their place on the map of Riverside. Thanks to the diligent efforts on the part of our staff and a volunteer, the Library has created a 12' x 14' scale reproduction of the map of Riverside on canvas to accommodate our "model homes" and will be laid on the floor of the Public Meeting Room at the Riverside Public Library. Interested participants are asked to build replicas (no larger than 3"x 5") of their homes, businesses, or other special buildings in Riverside with non-edible materials. Replicas of schools, churches and other major landmarks can also be included.

Ready to start building? Sign up to join the BOLD PLANS-BIG DREAMS Map Project at the Youth or Adult Services desks at the Library, and pick up your 3"x 5" "foundation card" with instructions. It's simple, easy and free and guaranteed to be BIG FUN!

Entries may be submitted beginning the week of August 17th. The display will run from August 24 through September 14.
This program was offered on these dates:
Exhibit : Monday, August 24, 2009 to Monday, September 14, 2009

Riverside Public Library
Hours:
Monday - Thursday 9 to 9, Friday and Saturday 9 - 5, Sundays during the school year, 1 - 5
Website: www.riversidelibrary.org
Location:
Riverside Public Library
1 Burling Road
Riverside, IL 60546
708 442-6366
[Get Directions]