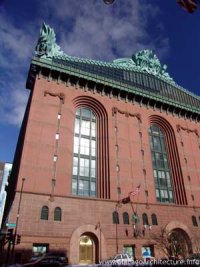 Chicago today is as much on the brink of progress as the Chicago of 100 years ago. Join some of our city's most innovative thinkers in a discussion of how to keep Chicago vital and vibrant in the 21st Century.
Panelists include author Carl Smith (The Plan of Chicago: Daniel Burnham and the Remaking of the American City, the Fall 2009 selection for One Book, One Chicago); Nichole Pinkard, Director of Innovation at the University of Chicago's Urban Education Institute;architects Sarah Dunn and Martin Felson of UrbanLab and Archeworks; and Angela Hurlock, Director of Claretian Associates, developers of green and affordable housing on Chicago's Southeast side. Moderated by MarySue Barrett, President of the Metropolitan Planning Council.
Presented in partnership with the Newberry Library, Chicago Matters and the Burnham Plan Centennial.
This program was offered on these dates:
Tuesday, August 4, 2009 6:00pm to 8:00pm

Chicago Public Library
Cost: FREE and open to the public
Website: http://www.chipublib.org
Location:
Harold Washington Library Center- Cindy Pritzer Auditorium
400 S. State Street
Chicago, IL 60605
[Get Directions]