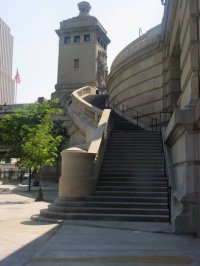 The third of the Always Current: Conversations on the Chicago River lecture series discusses the river's significance to the city of Chicago today, its value as a natural and civic asset, and plans for riverside developments such as the new downtown Riverwalk. Presented by Cathy Hudzik Breitenbach, manager of riverfront development for the Chicago Park District.
This program was offered on these dates:
Thursday, August 13, 2009 noon to 1:00pm

Friends of the Chicago River
Cost: Free with museum admission ($3); Reservations accepted, but not required, call 312.939.0490 x23.
Website: http://bridgehousemuseum.org/home/
Location:
McCormick Tribune Bridgehouse and Chicago River Museum
376 N. Michigan Avenue
(Southwest Tower of the Michigan Avenue Bridge, Riverwalk Level)
Chicago, IL 60601
[Get Directions]