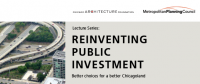 To what extent do investment decisions made in Washington, D.C. affect the Chicago region's economy and built environment? If we want cleaner air, ample supplies of water, and better connections between jobs, homes and transit, what changes do we need to make to the way our public investment dollars are used?
The Chicago Architecture Foundation and the Metropolitan Planning Council, in partnership with local chapters of the American Institute of Architects, American Society of Civil Engineers, and U.S. Green Building Council, are hosting a lecture series during the summer of 2009, to begin answering these pressing questions with an eye toward future reform. The series will explore the historic connection between federal investment policies on one hand, and resulting patterns of development, land use, and building design on the other.

The lecture series will consist of panel discussions addressing how emerging federal policy could influence three topics: viable infrastructure, livable communities and environmental sustainability. The series will examine the possible ramifications, both positive and negative, of federal reform initiatives. It is part of MPC's work to reform the federal government's investment strategies so that public money is transparently and accountabiliyy linked to the goals of social equity, environmental sustainability, and economic competitiveness. It also reflects CAF's continued dedication to advancing public interest and education in the built environment.