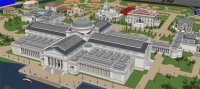 Unless you're a Chicago history buff, you may not know that the Columbian Exposition—also referred to as "The White City" or the World's Fair of 1893—was a source of inspiration for Daniel Burnham's audacious 1909 Plan of Chicago, which provided a vision of what a well-ordered and attractive city of the future could be. The Plan of Chicago has inspired generations of Chicagoans and city lovers worldwide. This year, the Burnham Plan Centennial is a regional event celebrating the Plan's legacy and looking forward to the bold, new plans for the region.

In coordination with this special anniversary year, the Museum of Science and Industry offers guests another chance to "stroll" through the White City. This fascinating visual simulation tour of the 1893 World's Fair is back by popular demand and enhanced with new visuals and content.

Tim Samuelson, Cultural Historian for the City of Chicago and Dr. Lisa Snyder, Associate Director of Outreach and Operations for UCLA's Experimental Technologies Center and the UCLA Urban Simulation team, will be presenting the recreation of the White City using real-time video simulation technology.

The simulation now includes and exploration of Columbus' three ships: the Nina, Pinta and Santa Maria. This area of the Fair is often overlooked in current discussions even though the Columbian Exposition was organized to celebrate the 400th Anniversary of the discovery of America. Other fascinating new elements include the Convent of La Rabida and enhanced imagery of the Agriculture building, the Casino and Music Hall, the Midway and South Pond areas. Another highlight of the tour is the Museum of Science and Industry!

While the Museum opened its doors 40 years after the World's Fair, we are housed in the only remaining building from the Exposition: the Palace of Fine Arts by Burnham & Root architect Charles Atwood.

Reservations can by made by calling (773) 684-1414. Tickets are $27 for members and $40 for non-members.
This program was offered on these dates:
Thursday, June 18, 2009 1:00pm to 2:00pm
Friday, June 19, 2009 1:00pm to 2:00pm
Saturday, June 20, 2009 1:00pm to 2:00pm
Saturday, December 5, 2009 2:00pm to 3:15pm
Sunday, December 6, 2009 2:00pm to 3:15pm

Museum of Science and Industry
Cost: $27 for MSI members, $40 for non-members (includes Museum General Admission), reservation required
Contact: Reservations can by made by calling (773) 684-1414
Website: http://www.msichicago.org/whats-here/events/explore-the-white-city/
Location:
Museum of Science and Industry
5700 S. Lake Shore Dr.
Chicago, IL 60637
773-684-1414
[Get Directions]