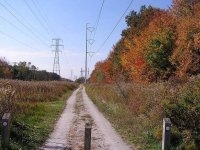 The public is invited to participate in a ceremonial groundbreaking and dedication event – reminiscent of the Transcontinental Railroad that connected our country more than 150 years ago – with symbolic green shovels instead of Golden Spikes.
Beginning at opposite ends of the trail, 1:30 p.m. in Burnham and 2:00 pm in Lemont, State and local dignitaries, along with each group's representatives, will shovel their way to the "middle" of the Calumet-Sag Trail at the Alsip Park District's Freedom Park for a celebration from 4:00 - 7:00 p.m.The event at Freedom Park will feature refreshments and music. Guests and dignitaries from the local, state and federal levels will all gather in support of trails and the Calumet-Sag Trail in particular.
The Calumet-Sag Trail will be the link to many trail systems not only in the Chicago Southland region, but across Northern Illinois and even the nation. When complete, the Calumet-Sag Trail will be an integral part of the Grand Illinois Trail and the national American Discovery Trail.
Scheduled Stops for for the Day Include:
1:30 p.m. – Burnham
2:00 p.m. – Lemont
2:00 p.m. – Calumet City
2:30 p.m. – Dolton
2:30 p.m. – Forest Preserve District of Cook County
3:00 p.m. – Riverdale
3:00 p.m. – Palos Park
3:30 p.m. – Blue Island
3:30 p.m. – Palos Heights Parks and Recreation
4:00 - 7:00 p.m. – Groundbreaking Celebration at Freedom Park
This program was offered on these dates:
Saturday, June 6, 2009 1:30pm to 7:00pm

Calumet-Sag Trail Coalition
Cost: Free
Contact: If your community would like to be part of the Calumet-Sag Trail Groundbreaking or to RSVP for the culminating Celebration Event at Freedom Park in Alsip, contact Diane Banta at diane_banta@nps.gov or 312-863-6287 .
Website: http://www.calsagtrail.org
Location:
Freedom Park (Culminating Celebration)
131st Street and Cicero Avenue
Alsip, IL
[Get Directions]