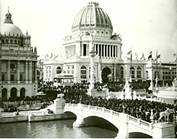 The year 2009 marks the centennial of Daniel Burnham's visionary plan for Chicago and its environs. Burnham's Plan shaped the city and suburbs for generations of residents and visitors to enjoy.
This slide lecture explores the Burnham plan along with its origins and sources. Learn about the full scope of the 1909 plan and its relationship to European and American precedents. Follow the transition from the 1893 World's Columbian Exposition to the City Beautiful Movement so eloquently manifested in Burnham's plan for Chicago.
Art Historian Jeff Mishur presents this slide lecture. Mishur is an owner of Art Excursions, a business providing lectures on cultural topics as well as boutique tours of important art cities.
This program was offered on these dates:
Tuesday, May 26, 2009 7:00pm

Riverside Public Library
Hours:
Monday - Thursday 9 to 9, Friday and Saturday 9 - 5, Sundays during the school year, 1 - 5
Cost: free
Contact: Dorothy Sikora 708 442-6366 or sikorad@riversidelibrary.org
Website: www.riversidelibrary.org
Location:
Riverside Public Library
1 Burling Road
Riverside, IL 60546
[Get Directions]