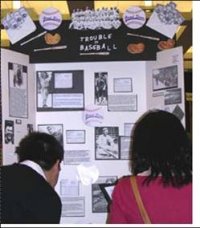 Every year 2,000 middle and high school teachers and students participate in the Chicago Metro History Fair which promotes primary course research and historical inquiry into Metropolitan Chicago. In order to encourage students to explore the rich legacy and impact of the Plan of Chicago, the Centennial Committee created a cash award program to recognize high school projects related to the Plan. To build momentum for educating youth about the rich history of planning in Chicago, the Chicago Metro History Education Center will work on behalf of the Centennial Committee to continue the student awards program for another 10 years.
Teacher Workshops
To recognize the ongoing legacy of the 1909 Plan of Chicago, the Chicago Metro History Education Center is offereing an annual one-day professional development workshop for local history teachers on a theme related to the history of urban development (such as planning, architecture, transportation, public parks, the lakefront, etc.), including presentations by one or more local scholars of Chicago history as well as presentations on local resources to support teacher and student research on topics related to the theme of each workshop.
Student Awards: Burnham Award for the History of Urban and Regional Planning
In addition, CMHEC will offer an annual student prize in honor of the Burnham Plan for a History Fair project that demonstrates superior scholarship on urban planning in Chicago history. This prize will encourage students to undertake projects related to the history of urban and regional planning and development, thereby increasing their knowledge and understanding about the ways that planning affects life in the city and their own communities. By fostering thoughtful study of questions and issues related to urban planning, the Burnham Award will inspire youth to learn more about the legacy of the Burnham Plan and criticially assess new plans for the future of the region.
Research Resources
The Plan of Chicago is now available in an affordable soft cover Centennial Edition from the Great Books Foundation. Carl Smith's The Plan of Chicago: Daniel Burnham and the Remaking of the American City and The Plan of Chicago @ 100: Views of Burnham's Legacy for the New Century are other great ways to get started.
Two on-line exhibits: Without Bounds or Limits (The Art Institute of Chicago) and Make Big Plans: Daniel Burnham's Vision of an American Metropolis (The Newberry Library) are available in the Online Exhibits section along with a wealth of other informational resources in the Learning Resources section of this website.
Burnham Plan Centennial Committee
Contact: Lisa Oppenheim, Chicago Metro History Education Center, loppenheim@chicagohistoryfair.org or 312.255.3652
Website: http://www.chicagohistoryfair.org/