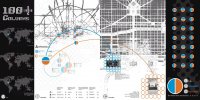 Exhibit :
A micro-installation in Burnham Park, 100 Columns + represents both turning the clock backward 100 years and forward 100 years. This timeframe gives perspective on the historic events since 1909 and speculates toward all the potential developments ahead for the city of Chicago. The 100 Columns + vision is one of a field or prairie as Chicago once was, but focusing upon urban growth patterns both which were and could be natural and constructed over two hundred years 1909–2109.
The project began in spring 2009 at Chicago Studio 2.0 at Virginia Tech. In the studio, faculty advisors Kathryn Albright and Terry Surjan, along with 20 students, designed and digitally manufactured the 100 Columns + in Blacksburg, Virginia. Afterward, a single column will be installed at the burial place of Daniel Burnham in Graceland Cemetery (4001 North Clark Street). As an ephemeral work of architecture the remainder of 100 Columns + will be given away.
This program was offered on these dates:
Exhibit : Tuesday, June 2, 2009 to Sunday, June 21, 2009

C U P & Virginia Polytechnic Institute
Cost: Free and open to the public.
Contact: Terry Surjan, 602.326.8775, surjan@vt.edu
Location:
Burnham Park
425 E. Mcfetridge Dr.
Chicago, IL 60605
773-256-0949
[Get Directions]