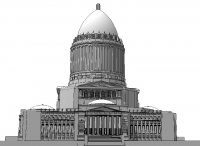 Lake Forest College's Virtual Burnham Initiative (VBI) will transform key elements of the 1909 Plan of Chicago into 3-D models accessible through the ever-popular Google Earth.
The VBI will allow audiences to explore Burnham and Bennett's Plan for the city in a completely new manner. Mere mouse clicks will bring to life "the city that never was," including the grand architectural elements of the Plan—never constructed despite their powerful hold on our imagination.

The Civic Center, Grant Park, Monroe Harbor, and the lagoon system stretching from Jackson Park to Grant Park burst forth in their imposing Beaux-arts glory, wonderfully juxtaposed with the "Chicago that is"—a modern and postmodern melange that Burnham and Bennett could have hardly dreamed up in their wildest architectural vision.

Users will also find never-before-seen content from Lake Forest College's "Edward Bennett" archive. Recently donated by Bennett's grandson, this incomparable collection contains numerous Bennett photographs from his office atop the Sante Fe building, European studies that eventually inspired the Plan, and invaluable correspondence between the major players—including Burnham, and, separately, artist Jules Guerin.

Lake Forest College Press will also publish Beyond Burnham: An Illustrated History of Planning for the Chicago Region, by Joseph P. Schwieterman and Alan P. Mammoser.
Project Launch:
Web launch: June 15, 2009

Event Launch: June 23, 2009
"The World According to Burnham and Bennett: the Launch of the Virtual
Burnham Initiative" / 5:30 - 8pm
DePaul University, Loop Campus
More info, TBA, Contact: lfische6@depaul.edu
VBI partners include:

Current VBI-partner projects include an Urban Studies content creation group consisting of Highland Park High School, Lake Forest High School, and Waukegan High School (in concert with the Chicago Metropolitan Agency for Planning [CMAP]).
Additional logistical and historical resource support comes from the Art Institute of Chicago, Chicago History Museum, Northwestern University, the Chaddick Institute for Metropolitan Design at DePaul University, John Shuler of the University of Illinois-Chicago, and Rebecca Graff of the University of Chicago
Lake Forest College
Contact: Site goes live, June 15, 2009. For further information contact Professor Davis Schneiderman, dschneid@lakeforest.edu
Website: http://vbi.lakeforest.edu/