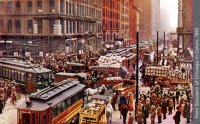 This lively lecture by Chicago geographer and historian Dennis McClendon includes pictures of the Chicago that faced the planners a century ago, the grand visions they had for the city and what actually resulted from the Plan of Chicago.
Daniel Burnham's 1909 Plan of Chicago was phenomenally important to today's city. The lakefront parks, the forest preserve system, Wacker Drive, the Magnificent Mile all owe their origins to this famous (but often misunderstood) document. It's the year of Burnham, and centennial celebrations are spotlighting the Plan's history and energizing today's regional planning efforts. It's equally important to recognize the civic leaders and technicians beyond Burnham who brought the Plan to life in the early 20th century and shaped the city we know.
Dennis McClendon wrote the booklet being distributed by the Burnham Plan 100 organization, and available online [click here].
Presented by the American Association of University Women in partnership with the Glen Ellyn Public Library.
This program was offered on these dates:
Wednesday, November 4, 2009 7:00pm

Glen Ellyn Public Library
Cost: Free and Open to the Public
Location:
Glen Ellyn Public Library
400 Duane Street
Glen Ellyn, IL 60137
[Get Directions]