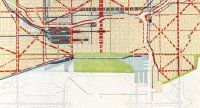 A panel including: John Fregonese, a regional planning and transportation expert; Sadhu Johnston, former chief environmental officer for the City of Chicago; and Carlos Nelson, executive director, Greater Auburn-Gresham Development Corporation, considers practical and immediate solutions to questions about housing, education, transportation and the environment and sustainability in and around Chicago. WBEZ's Steve Edwards moderates. The Future of Chicago is part of the 2009 Chicago Humanities Festival. Two other Burnham Centennial-themed programs on November 14 are:
CHF limits advance ticket sales to the capacity of its venues. However, seats may be available at sold out programs. If available, tickets will be sold at the door, first-come first-served, 10 minutes prior to the start time of each program.
Presented by the Burnham Plan Centennial Committee in partnership with the Chicago Public Library, Chicago Matters and Chicago Metropolis 2020 with support from Allstate.