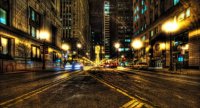 A panel of visionary designers and thinkers—including: architect and planner Doug Farr; Cheryle Jackson, president of the Chicago Urban League; and John Tolva, IBM, Director, Citizenship & Technology—provide an exciting look into an imaginative future. Adele Simmons, vice chair of Chicago Metropolis 2020, moderates. Bold Plans for the Next 100 Years is part of the 2009 Chicago Humanities Festival. Two other Burnham Centennial-themed programs on November 14 are:
CHF limits advance ticket sales to the capacity of its venues. However, seats may be available at sold out programs. If available, tickets will be sold at the door, first-come first-served, 10 minutes prior to the start time of each program.
Presented by the Chicago Humanities Festival and the Burnham Plan Centennial Committee in partnership with the Chicago Public Library, Chicago Matters and Chicago Metropolis 2020 with support from The Allstate Foundation.