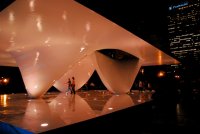 The official opening of the Burnham Pavilions in Millennium Park takes place Friday, June 19 at noon on the South Chase Promenade.
The public opening is followed later in the day with a celebratory concert at the Grant Park Music Festival featuring the world premiere of Michael Torke's Plans, a new work for symphony and chorus inspired by the Plan of Chicago. Torke's new work will be paired with Rachmaninoff's Piano Concerto No. 3 composed in 1909. The free concert, held at the Jay Pritzker Pavilion, begins at 6:30 pm and is repeated Saturday, June 20, at 7:30 pm.
Related Burnham Centennial opening weekend activities include :
For a complete list of June activities and events, click here.
This program was offered on these dates:
Friday, June 19, 2009 noon to Sunday, June 21, 2009 noon

Burnham Pavilions
Cost: Free and open to the public
Website: /events/id/59
Location:
Millennium Park
201 E Randolph St
South Chase Promenade
Chicago, IL 60601
[Get Directions]